Fishing at Huntington Lake
Huntington is a high mountain lake with German brown trout, rainbow trout, and kokanee salmon. Fly fishing is good along the northern shore near creek inlets. Both trolling and shore fishing are successful at Huntington. Usually the best fishing is before 10:00 AM.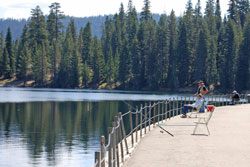 Where to Fish on Huntington Lake
Shore anglers like the area around Billy Creek and the inlet at Home Camp Creek, along with the south side of the point at the Dowville Picnic Area. Also good are both sides of the upper end of the lake, either at Rancheria Campground or across at College Campground.
The two coves by Big Creek are known for good fishing from boats. Deep water north of the island and around to dams 1 and 2 are popular trolling waters. Sometimes fishing is good around Rock Island.
Which Baits and Lures Are Catching Fish at Huntington Lake?
Trout : Drifting with bait, Wedding Rings tipped with a crawler, Rapalas, Rebels, Needlefish, Kastmaster Spoons, Power Bait, Nightcrawlers
Kokanee: Spinners, Spoons, Dick's Trout Buster spinner (trout model, tip with corn or night crawler), Kokanee Bugs, Rocky Mountain UV pink Signature Squids


Nearby Fishing Destinations
Staying at Huntington Lake affords you the opportunity to head out on a number of side trips for fishing. Some places, like Shaver Lake, are close by, while other destinations require you to drive over Kaiser Pass.
Kaiser Pass Cautions: First, there is no gas available beyond Huntington Lake, so fill up your tank. Next, the road is steep, winding, and narrow. It's not a road for large vehicles, e.g. RVs. In places there is what rock climbers call exposure - steep drop-offs that you wouldn't want to descend.
On the other hand, people drive the Kaiser Pass road every day and think nothing of it. With a little caution and common sense, it can be easily negotiated. Take it slow, use the turn outs. There are magnificent views once your cross over the pass, and at the end of the road's two branches you reach beautiful lakes - Lake Edison and Florence Lake.
Drive to These Nearby Lakes:

Shaver Lake - only 21 miles away, great resort lake, spend the day
Lake Thomas A. Edison - 25 miles away, about an hour of driving. Fish the lake or explore nearby streams.
Florence Lake - 22 miles away, about an hour of driving. Take the water taxi to the far end or fish around the dam.
TOP
Huntington Lake Area
Fishing Tackle and Bait
Rancheria Enterprises
Huntington Lake Rd., Lakeshore, CA
Located at the east end of the lake.
(559) 893-3224
Website: Rancheria Enterprises

Sierra Marina
45795 Tollhouse Rd., Shaver Lake, CA
(559) 841-3324
Website: Sierra Marina

Shaver Lake Sports
41698 Tollhouse Rd., Shaver Lake, CA
(559) 841-2740
Website: Shaver Lake Sports

Yosemite Rivers
40827 Hwy. 41, Oakhurst, CA
(559) 641-7788

Valley Rod & Gun
2704 Clovis Ave., Clovis, CA
(559) 292-3474

California Bait & Tackle
4516 E. Belmont Ave., Fresno, CA
(559) 454-1155

Fishermans Warehouse
4320 W, Shaw Ave., Fresno, CA
(559) 225-1838
Website: Fishermans Warehouse
Adventurous Fishing Destinations

Dave's Sierra Fishing gives details about two great fishing destinations in the nearby John Muir Wilderness. For an unforgettable overnight backpacking destination, try Graveyard Lakes. Or if you have a 4-wheel vehicle to negotiate the last 2 miles into Bear Creek Diversion Dam, you won't find better stream fishing than along Bear Creek.