Trinity County, Northern California
Trinity Lake Fishing
Fishing at Trinity Lake
Trinity Lake fishing comes alive in mid-spring as the water clears. Native rainbow trout, brown trout, kokanee salmon, smallmouth bass, largemouth bass, and catfish are caught all over the lake. Shore fishing can be as good as fishing from boats.
Where to Fish on Trinity Lake
For those fishing from the bank, all of the arms offer some great spots to hook both trout and bass. Concentrate on areas near the mouths of creeks such as Buckeye Creek, Stuart Fork, Mule Creek, and Hobel Creek. Another good spot is at the north end of the lake where the Trinity River enters. Shallow sections of the lake with cover such as rocks, stumps and bushes are excellent spots to fish for bass.
From boats anglers often focus on trolling on the main Trinity Arm. Fishing around the dredger tailings at the upper end of the lake has produced some trophy-size smallmouth bass.
Much More Below
Trophy Fish Caught in Trinity Lake
Bullhead Catfish - 4 lbs., 8 oz. - California State Record, caught Oct. 1993 by Gary Dittenbir
Chinook Salmon - 9 lbs., 9 oz. - California State Record, caught Nov. 2011 by Leroy Mohr
Smallmouth Bass - 9 lbs., 1 oz. - CA state record at the time, caught March 1976 by Tim Brady
Which Baits and Lures are the Locals Using at Trinity Lake?
Trolling: Nightcrawlers behind flashers, Rapala, Needlefish
Bass Fishing: Plastic worms, nightcrawlers, plugs, Gitzits
Bait: Fishermen's Favorite: crickets , nightcrawlers, PowerBait
Spin Casting: grubs, spinnerbaits Fly Fishing: Minnow shaped flies, Zack-Attack Damsels, Chromies, Zebra Midges

Trinity Lake Fishing Guides
Mike's Fishing Guide Service
Douglas City, CA
(530) 623-4266 or (916) 215-6330 (cell)
Website: Mike's Fishing Guide Service
Mike Elster has been fishing Trinity Lake area waters for 15 years. fish from 20' Duckworth Aluminum boat complete with Walker Tournament Downriggers and GPS Navigation Depth and Fishfinder.

Trinity Fly Shop Guide Service
(530) 872-0907
Website: Trinity Fly Shop
Fly fishing in local streams and rivers around Trinity Lake with experienced, local guides.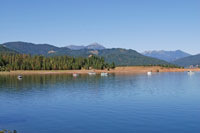 John Gray:
The "Maine" Guide at Trinity Lake
Weaverville, CA
(530) 623-4352
Website: The Maine Guide
John Gray specializes in smallmouth bass at Trinity Lake.

Riverbend Adventures
Lewiston, CA
(530) 778-3540
Website: Riverbend Adventures
A "blue collar" fly fishing guide service for trout and steelhead in northern California rivers.

Trinity River Adventures
Lewiston, CA
(530) 623-4179
Website: Trinity River Adventures
Fly fishing guides for steelhead, salmon and trout on Trinity area rivers and streams and Lewiston Lake


TOP
Trinity Lake Area
Fishing Tackle
Pinewood Cove Resort
Stuart Arm, Trinity Lake, CA
(530) 286-2201

Trinity Fly Shop
Old Lewiston Road, Lewiston, CA
(530) 623-6757
Fly fishing gear, locally tied flies, rentals

Trinity Outdoors
1615 Main St., Weaverville, CA
(530) 623-4999
Fishing supplies, Camping and Hunting Gear, Maps and Books

Plug and Jug
4391 Trinity Dam Blvd., Lewiston, CA
(530) 778-3730

Coffee Creek Country Store
Coffee Creek, CA
(530) 266-3233

Hinkle's Market and Sporting Goods
1084 Market St., Redding, CA
(530) 243-2214

Strictly Fishing' Guide Tackle
2451 Athens Ave., Redding, CA
(530) 241-4665

Bass Pro Shops
1356 Bass Pro Drive, Manteca, CA
(209) 825-8400




The Fishen Hole
3844 Shasta Dam Blvd.,
Central Valley, CA
(530) 275-4123


TOP