Nearby Boat Storage Facilities
Lake Perris Water Level
Because of potential seismic safety risk in a section of the foundation of the Lake Perris Dam, the water level at Lake Perris has been lowered 25 feet.
The result has been more exposed beach areas and about a 20% reduction in the lake's surface area. Consequently the number of boats allowed on the lake at one time was reduced. Making a reservation is recommended. (800) 444-7275.
The Department of Water Resources completed the dam remediation design in summer 2012, and construction should begin in late 2014. Completion of the dam remediation is expected by 2017.
Launching Small Boats By Hand
A hand-launching site at Lake Perris for small sailboats, kayaks, and canoes is located at Sail Cove.
Nearby Lakes
Diamond Valley Lake
A favorite fishing destination. No body to water contact allowed.
Skinner Reservoir,
10 MPH speed limit, popular for sailing, fishing, swimming (in an adjacent swimming area), horseback riding and hiking
Lake Elsinore
Popular for boating, jet skiing, wake boarding, waterskiing, and fishing. Public beaches.
Lake Hemet
420 surface acres, popular for fishing, also boating, hiking, and picnicking.
Lake Arrowhead

Lake Gregory

Fiberglass Restoration
Lake Perris Boating in a Nutshell
Personal Watercraft, Waterskiing, Wakeboarding
Pleasure Cruising, Patio Boats, Fishing Boats
Kayaking, Canoeing, Sailing
Lake Perris is a popular boating destination in Southern California. All kinds of boating are permitted on the lake, but there are a number of regulations with which you will want to be familiar before launching your boat. See Boating Regulations, left.
Because of potential seismic safety risk in a section of the foundation of the Lake Perris Dam the water level has been lowered. While the lake level is low, the number of boats on the water is being carefully regulated. To ensure entry, make a reservation at (800) 444-7275.
Spring Park Hours: 6:00 AM - 8:00 PM, Thursday through Monday for day use. Camping is available Thursday through Sunday nights. Boating hours are 6:00 AM to 6:30 PM
Summer Park Hours: 6:00 AM - 10:00 PM Lake Hours: 6:00 AM - 8:30 PM
Entrance Fee: $10 per vehicle (9 people) seniors 62+ $9
Per Watercraft: $8 (canoes and kayaks are free)
Annual Passes: Vehicle - $195, Watercraft $100 (good at most State Parks)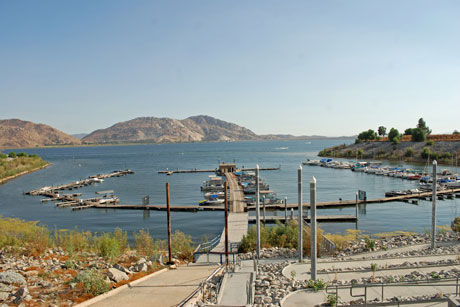 Lake Perris Marina
17801 Lake Perris Dr., Perris, CA
(951) 657-2179, Lake Perris Marina
Marina:
Hours: summer (May-Sept) 6:00 AM - 6:00 PM
winter (Oct-March) 6:00 AM - 5:00 PM (closed Tues and Wed. from Oct. - March)
Launch Ramps 2 paved ramps with 4 lanes on each
Facilities: Store with camping supplies and fishing tackle (6 am - 6 pm)
Slips: 35 Overnight slip rentals at $20 per night, 200 monthly wet slips ($100 per month, $1100 per year) and 70 dry storage spaces for vessel or trailer ($60 per month, $660 per year)
Wet Slips with Dry Storage: $160 per month or $1580 per year
Lake Perris Marina Boat Rentals
Boat
Seats
1 Hr.
2 Hrs
Added Hours
Some Senior Discounts midweek. Prices are subject to change.
Small Boat
4
NA
$35
$10
Fishing Pontoon
10
NA
$85
$25
Deluxe Pontoon
10
NA
$100
$25
Single Kayak
1
$10
$7
Double Kayak
2
$12
$9
Lake Perris Quagga and Zebra Mussels
Boat Inspections
All boats must undergo a mandatory inspection. This inspection is to prevent the spread of Quagga and Zebra Mussels. All vessels must be clean, drained, and dry prior to entering Lake Perris.
Inspections include canoes, kayaks, sailboats, rafts, fishing waders, scuba gear, etc. If you are coming from a Quagga Infected body of water you must wait 7 days before bringing your boat to Lake Perris. You will automatically be quarantined for 7 days if you have not waited 7 days to bring your vessel to Lake Perris from a quagga infested lake or river. If your boat or any object, including but not limited to sails, life vests, and skis, on your boat is wet, damp, or moist, your vessel will be quarantined for 7 days.
Do not wash, rinse, or hose your boat before coming to Lake Perris. Your watercraft will not be allowed in the park. Let the boat dry for 5 days minimum after washing.
Boat Rental Companies
Invert Sports
(888) 205-7119 Invert Sports
Luxury inboard V-drive tournament wakeboard boats, ski boats, and jet ski rentals.
Prices subject to change.
Southern California Boat Rental
32-foot Sun Tracker Party Cruiser (with or without a fishing guide). Carries 15 people. Has luxurious upholstery, dinette area, cook top, head with shower.
Southern California Boat Rental
All day rental $395, rent for two days and get a third day free. Located at Diamond Valley Lake. Delivery from Diamond Valley Lake to Lake Perris is $1.95 per mile. Includes launching.
Lake Perris
Boating Regulations
All boats must be off the lake and on their trailers by the lake closing time.
Lake Perris now allows the towing of inflatables behind vessels. Riders must wear lifejackets and a spotter must be in the boat with an orange flag.
Free-style/trick riding in not permitted. This includes, but is not limited to, 360s, 180s, submarining, jumping boat wakes, etc.
The speed limit for all watercraft on Lake Perris is 35 MPH. Before sunrise and after sunset the speed limit is 5 MPH. Running lights are required at those times.
Vessels are not allowed within 50 ft. of posted swim areas.
The east end of the lake will be a 5 mile per hour zone only. Travel will be counter clockwise only in the west basin due to hidden hazards underwater in the east end.
For a complete list of Lake Perris boating regulations, see California Boating and Watercraft Regulations - Lake Perris
Marine Services
Elite Marine
781 W. La Cadena Dr.,
Riverside, CA
(951) 784-6562
Elite Marine

Denny's Boat Works
9485 Joden Rd., Moreno Valley, CA
(951) 243-7664

Ken's Boat Repair and Parts
32501 Highway 74, Hemet, CA
(951) 926-4637

M K Hammer Speed and Marine
3878 S. Pershing Ave., San Bernardino, CA
(909) 888-0055
M K Hammer Speed and Marine

Ron's Marine Services Center
13400 Calimesa Blvd., Yucaipa, CA
(909) 795-8584