Nearby Boat Storage Facilities
Millerton Storage,
17170 N Friant Rd., Friant
Central Valley Boat & RV Storage
880 S Pine St, Madera
(559) 674-7895
Bald Eagle Boat Tours
During winter (January through February) on weekends, the Millerton Lake State Recreation Area has special boat tours up the San Joaquin River channel to view the bald eagles.
Tours cost $20 per person and begin at 8:00 AM with a slide show at the Historic Fresno County Courthouse on the south side of the lake. Binoculars, lifejackets, and hot chocolate are provided.
The tour travels with a ranger and a biologist on the To'ghill, which is Chukchansi for Eagle. The tour lasts about three hours.
Reservations are required: (559) 822-2332
Nearby Lakes and Facilities
Lost Lake
Downstream from Millerton Lake
38 acres with surrounding recreation area
Primitive Nature Study Area
Fishing, Hiking, Picknicking, Bird Warching
Campground
Hensley Lake
17 miles northeast of Madera
1,500 acre lake
Camping, Fishing
Swimming, Boating, Water Skiing
Launch Ramps
Day Use Fee $4
Operated by US Army Corps of Engineers
Millerton Lake Boating in a Nutshell
Water Skiing, Wake Boarding, Tubing, Personal Watercraft
Patio Boats, Fishing Boats, Pleasure Cruisers
Sailing - very popular at Millerton Lake. Regattas are held there every summer.
Kayaking, Canoeing, Row Boats, Rafts
Millerton Lake Marina is the only marina at the lake. It operates by a concessionaire for California State Parks. Only compliant 2-stroke motors are allowed on Millerton Lake. For more information about the state recreation area, see Millerton Lake State Recreation Area
Millerton Lake Sate Recreation Area Fees
Vehicle Entrance Fee: $10 ($12 on holiday weekends)
Power Boat Launch Fee: $7
Millerton Lake Marina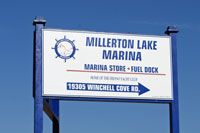 19305 Winchell Cove, Friant, CA - on the southeast end of the lake, off Millerton Road
(559) 822-2264
Website: Millerton Lake Marina
Marina:
No boat launching at the marina
Facilities: Snack Bar, Bait and Tackle, Marine Supplies, Fuel Dock, Dock Carts
Slips:

Transient Daily Slip Rate - $20
330 wet slips for boats up to 32' - monthly fees $114 to $311, annual fees $839 to $2273
55 Dry Storage Spaces: Boat and Trailer - $65 per month, trailer only - $45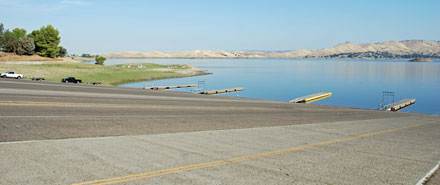 Millerton Lake Boat Launch Ramps # 2 -5
Renting Boats at Millerton Lake
Millerton Lake Marina Boat Rentals
Millerton Lake Marina
19305 Winchell Cove Road, Millerton Lake, CA
(559) 692-BOAT Website: Millerton Lake Marina

Millerton Lake Boat Rentals - 2017
Boat
Length
Seats
Features
6 Hours
Prices subject to change.
Patio Boats
20'
~10
BBQ, Bimini Top,
Can tow Tube
$325
Millerton Lake Rentals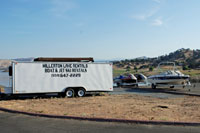 5290 Millerton Road, Friant, CA - use Millerton Lake's South Shore Entrance on Millerton Road
(559) 647-2229
Website: Millerton Lake Rentals
Must be 18 to rent Personal Watercraft and Pontoon Boats, 25 to rent Ski Boats;
$300 deposit required (credit card) on most boats, $100 for fishing boat.
Millerton Lake Rentals - Boats for Rent
Boat
Length
Seats
Features
1 Hr
4 Hrs
8 Hrs
Not all rate options are shown. They offer adjusted prices for 1-8 hours for most boats, also 24 hours or longer. Fuel cost not included. Prices subject to change.
Pontoon Boat
25'
8 - 10
Deluxe seats,
135 HP, Bimini
$125
$325
$450
Pontoon Boat
25'
8 - 10
60 HP, Bimini
$125
$275
$375
Ski Boat
15½'
7
Open Bow, Tower, 135 HP
$125
$275
$375
Ski Boat
18½'
8
Open Bow, shade, 210 HP
$150
$300
$400
Yamaha PWC
~10'
3
$80
$225
$325
They also rent single kayaks, tandem kayaks, stand-up paddleboards, tubes, skis, and wakeboards.
Millerton Lake
Launch Ramps
Ramp #1 - South side of dam, off Millerton Road at Crows Rest Picnic Area (shown below)
Ramps #2-5 - South shore, near La Playa Picnic Area, off Millerton Road (shown right)
Ramp #6 - North Shore, in Meadows Campground and by Sunset Point Day Use Area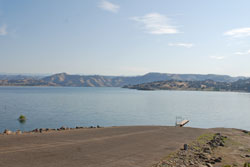 Ramp # 1
Marine Services
Ed's Marine Service
5677 W. San Madele Ave., Fresno, CA
(559) 436-6700

Ron's Marine
2782 N. Sunnyside, Fresno, CA
(559) 292-6370
Ron's Marine

Marine Service Center
207 E. Sierra Ave, Fresno, CA
(559) 438-6560

Clovis Marine
2475 N. Fordham Ave., Fresno, CA
(559) 291-5737
Clovis Marine

ETCO Marine
15366 E. Mineral King Ave., Visalia, CA
(559) 734-7471
ETCO Marine

Oakhurst Boat/Marine
57501 Road 255, North Fork, CA
(559) 683-3534

Adams Marine
2515 N. Santa Fe Dr., Merced, CA
(209) 722-4660

Galey's Marine
2720 Automall Dr., Bakersfield, CA
(661) 327-5711
Galey's Marine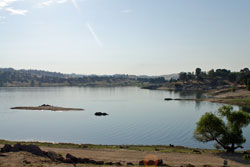 La Playa Area
Sailing at Millerton Lake
The Fresno Yacht Club's main sailing venues are Millerton Lake and Huntington Lake. Races are held at Millerton Lake year-round. The Fresno Yacht Club is open to new members. Fresno Yacht Club