Lake Casitas
Lake Casitas is well known as one of the best bass fishing destinations in the state. Many campers like the quiet atmosphere around the lake. Because it is a drinking water supply, no body contact with the water is allowed at Lake Casitas. That, of course, means no water skiing, personal watercraft, or swimming. However, popular land-based attractions are available at the lake, including a top-ranked disc golf course and Water Adventure, a fun-filled water park.
On This Page
Lake Casitas is operated by the Casitas Municipal Water District. The lake is located only a few miles north of Ventura. Park hours vary by seasons. Generally in summer they open around 5:30 - 6:00 AM and close at 8:00 PM. Walk-ins and bicyclists are admitted free.
Information: (805) 649-2233
Lake Casitas Entry Fees
Regular Daily Vehicle Entrance: $11, RVs $14
Annual Vehicle Entrance: $140
Daily Motorized Boat Entrance: $13 (plus vehicle fee)
Daily Non-Motorized Boat Entrance: $7 (plus vehicle fee)
Annual Boat Entrance: $135, non-motorized $105
Pets Entrance: $2
Boating
Lake Casitas's strict Quagga and Zebra Mussels boat inspection program limits access to the lake to boats which have passed through their 35-day quarantine. As a result, most boats on the lake belong to locals who only fish at Lake Casitas. There is no body to water contact allowed, so there is no water skiing or jet skiing.
Marinas
There is a single marina at Lake Casitas. It has two launch ramps, a bait and tackle store, a restaurant, and limited boat rentals.
Fishing
Lake Casitas is one of the best bass fishing lakes in the state. Record largemouth bass have come from the lake's warm waters. Rainbow trout, crappie, bluegill, redear sunfish, and catfish are also caught in the lake.
Campgrounds
Lake Casitas has numerous campgrounds clutered in the north shore's Lake Casitas Recreation Area. They offer a variety of levels of amenities, ranging from basic campsites to deluxe RV sites with full hook-ups and even TV. There are nearby facilities such as showers, an amphitheater, store, and the popular Casitas Water Adventure. Several National Forest campgrounds are within driving distance of the lake and RV parks are found in nearby towns.
Lodging
Lake Casitas has no lodging within the lake area. The nearby towns of Ojai, Ventura, and Oxnard have an abundance of motels, inns, and resorts.
Scenery
Lake Casitas is a beautiful lake with rows of rugged mountains rising up around it. Numerous winding coves and a large main island make exploring the lake an interesting adventure. In the spring wildflowers are in bloom. Birds of prey nest in the area and wildlife abounds in the area.
Nearby Communities
Lake Casitas is only a few miles away from the charming little town of Ojai to the north and the coastal communities of Ventura and Oxnard to the south. Santa Barbara is a mere 23 miles west of the lake.
Lake Casitas Facts

| | |
| --- | --- |
| Lake Size: | 2,500 surface acres |
| Current Maximum Depth: | feet |
| Length: | 3.5 miles |
| Shoreline: | 32 miles |
| Dam Construction: | 1958 |
| Lake Operator: | Casitas Municipal Water District |
| Maximum Lake Elevation: | 616 feet |
| Average High Air Temperatures | |
| spring: | 76 degrees |
| summer: | 90 degrees |
| fall: | 82 degrees |
| winter: | 68 degrees |
| Summer Surface Water Temperature: | 80 degrees |
Lake Casitas

BOATING

MARINAS

FISHING

CAMPING

LODGING

SCENERY
Recreation around
Lake Casitas
Lake Casitas Water Adventure
Two water playgrounds, one for younger children.
Lazy River, Waterfalls, Slides, Jet Sprays
Shaded Decks, Showers, Restrooms, Snack Bar
Morning Water Aerobics Classes
Casitas Water Adventure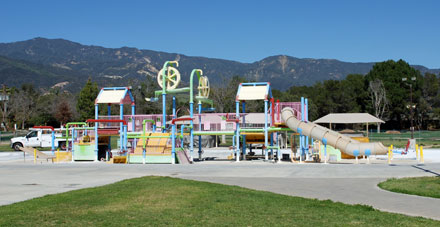 Lake Casitas Bike Trail
A bicycling and walking trail extends along the east side of the lake
Begins at Picnic Area #1
1½ miles long
Lake Casitas Bike Trail

Coyote Point Disc Golf Course
Professionally designed course
Free
Coyote Point Disc Golf

Lake Casitas Bird Watching
Over 160 species have been identified at Lake Casitas, including Bald Eagles, Golden Eagles, Nuttall's Woodpeckers, Costa's Hummingbirds, Ferruginous Hawks, and Tricolored Blackbirds.